Turn around to Minorca's coves by sailboat embarking in Mahon - Summer 2019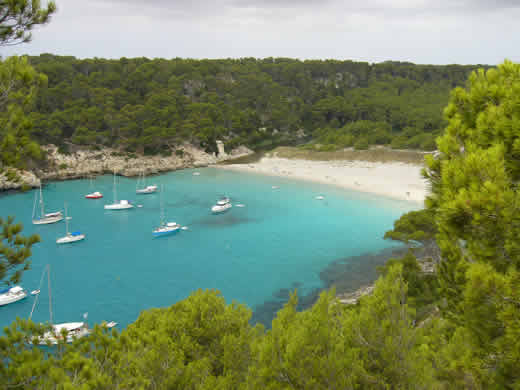 Singles holidays in Menorca this summer, you will be able to sail by the coves of Menorca as well as in our already well-known cruises embarking both in Barcelona, and in Mahon.
We will embark in Mahon's Port, from where we will set sail to enjoy an unforgettable experience, discovering incredible cliffs, paradisiacal coves of white sand and turquoise waters, all sailing on board a beautiful Bavaria 46 boat of 14 meters of length (4 cabins, 2 bathrooms).
It isn't necessary to be experienced; all you need is your desire to enjoy.
This route avoids the long crossing from Barcelona, ​​both on the way and back, and allows you to enjoy 2 more days of the coves of Menorca. The disadvantage is that you have to travel by ferry or plane to Mahon and you'll miss the long hours navigating by the Great Blue.
The itinerary is as follows:
Boarding in Mahon's Port at 10 o'clock on Saturdays
Disembark Saturdays at 09:00 a.m.
From Saturday, June 29 to Saturday, September 14, 2019.
Prices according to date indicated below.
To make a reservation, you must make a payment, by credit card, deposit account or transfer the amount of the reservation, by clicking on the link for each trip.
Singles Trips in sailboat around Menorca for the 2019 season. Sailing from Mahon on Saturdays.

Free seats

Last seats

No free seats

Trip canceled
Itinerary: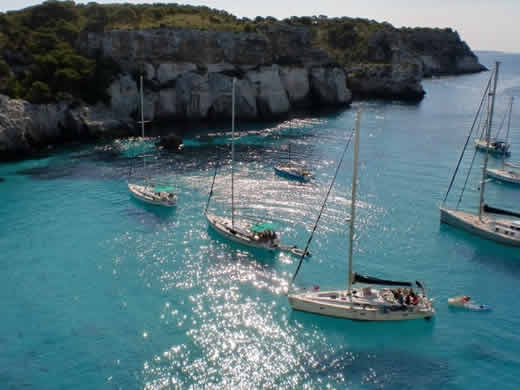 • Saturday
We will meet at Mahon's Port at 10:00h.; The Skipper will make the presentations, we will raffle the distribution of the cabins, explain the plan of the week and organize the purchase of provisions for the week. Once all stowed on board, we will sail to the south of Menorca, we will pass through the Aire Isle, where we can enjoy our first swim, in waters with incredible contrasts, then we will go to Cala Porter, where we will anchor and we will be able to enjoy a wonderful sunset in the coves d'en Xoroi.
• Sunday
We will visit the coves in the south of the island, such as Escorxada and Trebaluja, and in the afternoon we will arrive at one of the most beautiful and famous coves on the island, Cala Macarella where we will anchor for dinner and spend the night.
• Monday
After a morning swim in its fantastic waters, first thing in the morning we will head towards Ciutadella, visiting coves like Turqueta and Son Saura. In the early afternoon we will arrive at the port of Ciutadella, a beautiful city in which we get lost in its streets, discovering the port, the cathedral, the Peix market, etc.
• Tuesday
We head north, it will seem that we change of island, we leave the pines touching the sea and we discover a more abrupt but charming landscape. We will arrive at Cala Algaiarens, where we will spend the day and the night, we will be able to enjoy fine sand, calm waters and with a bit of luck we will see some river turtle.
• Wednesday
After the bath, we head to one of the most beautiful corners of Menorca, Cala Pregonda, we will spend the day enjoying its bottoms and incredible waters, walking along its beach and surroundings, after lunch, we will take anchors and enjoy the incredible cliffs from Cape Cavalleria to reach one of the most unique villages in the north of the island, Fornells, a natural port nestled within an estuary, where we will go ashore and if we feel like it we will enjoy an excellent rice soup.
• Thursday
We continue enjoying the island, crossing a thousand wonderful places in the north of Menorca, we will anchor under the protection of l'Illa d'en Colom.
• Friday
Last day navigating through this paradisiacal island, we will look for a new place to hit the last dip of the week and then we will go to Mahon's Port, where we will enjoy a last meal on board with your travel companions, who will have become friends forever. We will always remember anecdotes, and goodbye will come.
The route planned for this trip is not contractual and will have to be adapted and modified according to the weather conditions, sea and wind conditions and safety considerations for the crew and the boat that the skipper considers.
We remind you that sailing holidays are a participatory activity in which the crew members must take care of the tasks on board. In turns, we will cook, scrub kitchen utensils, take care of the cleaning and even make guards during the night navigation and help the patron in the maneuvers with candles, anchoring, etc.
In the following links you will be able to find answers to your questions regarding what a sailing boat trip is like, the expenses you will incur apart from the price of the trip, the luggage you will have to bring on board, our cancellation terms, etc.
What is a trip with singles on sailing boats?
Expenses you will have to take into consideration when you go on your singles sailing boat holiday.
How do I pack my suitcase?
Our cancellation policy for Sail for Singles!!
In general, you will want to check our sections on:
Important Information
FAQ - Frequently Asked Questions
You can book your sailing vacation week by clicking on the 'Book Now' button that takes you to the page with the dates and prices of each week. Book your place as soon as possible and do not worry if, for work, family or whatever, you cannot come. Our very light travel cancellation conditions allow you to change the date of your trip, free of charge, up to 24 hours before embarking or canceling the trip, also without expenses, up to 7 days before or with some small expenses in the last week.