Do you want holidays that are different? Come and race regattas with Sail for Singles!!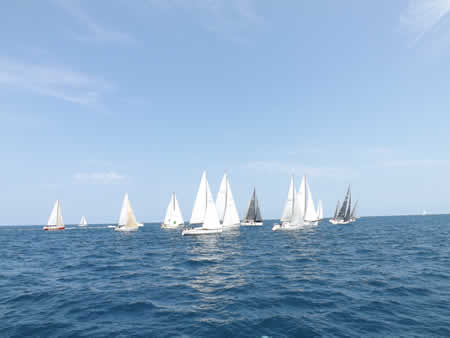 Are you the competitive type? You want to join in as a crew member in a regatta but never knew how to sign up? You have no experience at all? This is your chance to make your dream come true and share experiences with other singles (and non-singles) like you who have the same desire for adventure, sailing, and for meeting new, fun people.
We usually race regattas such as the "Ruta de la Sal" Regatta -the Easter route- from Dénia to Ibiza, the "Copa del Canal de Dénia" to San Antonio in Ibiza, the "Ophiusa" Regatta during Easter from Sitges to Formentera, the "Reserva de la Biosfera" Regatta, the "Bahía de Pollença" Regatta, the "Canal de Mallorca" Regatta, the "Regata del Delta" etc.
Would you like to watch a video showing what Sails for Singles regattas are like?
Video of the "Copa del Canal" Regatta during the "Virgen del Pilar" Long Weekend
The "Ruta de la Sal" Regatta during Easter.
Here you can find information about the next regattas we are thinking about racing, sorted by embarkation date. You do not need to have experience. Some experienced crew members always travel in our boats who, together with the captain, will teach you everything you need to know and help you become an expert regatta crew member.

Free seats

Last seats

No free seats

Trip canceled