Travel in a sailboat with other single people to Minorca from Barcelona – Summer 2023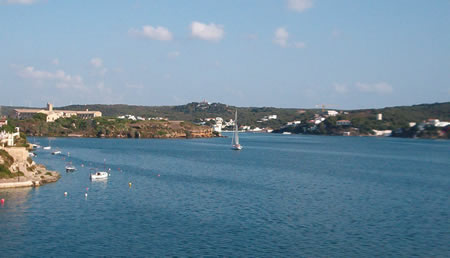 This summer we will enjoy once again the experience of sailing and feeling the sun, the wind and Menorca's Sea and beaches. We'll rediscover its coast and its incredible white sand and turquoise water. Again, aboard of a beautiful sailboat and great company with other single people.
Let our tour guides introduce you to the wonderful world of the sea. And all the possibilities it offers. You don't need experience in sailing, kayaking or snorkeling. Only the will to have fun and enjoy.
Are you ready to get on board with other singles?
We have also available the Tour to the coves of Menorca with boarding in Mahon on Saturdays. Avoid the crossing from Barcelona to Menorca and enjoy almost 2 more days of coves.
Embark in Barcelona, Puerto Olímpico, at 10AM every Saturday from July 1 to september 22 of 2023.
Disembark the following Friday at 5PM.
Prices according to dates are listed below.
The remaining amount must be paid in full 10 days before boarding.
Single Travels in sailboat to Menorca for the 2023 season. We'll embark from Barcelona heading for the Calas de Menorca every Saturday.

Free seats

Last seats

No free seats

Trip canceled
Itinerary: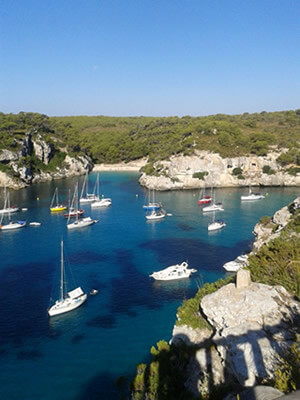 • Saturday
We'll meet in the Port Olimpic de Barcelona at 10AM. Everyone will meet up, your tour guide will explain all the details of the travel and organize the joint buying of all the provisions for your week long trip, the cabins will be distributed and we'll set sail heading for Menorca Island. The big blue is waiting for us! We'll enjoy the sunset sailing and the immensity of the stars. It's also usual that during our travel to be visited by dolphins.
• Sunday
After the travel we'll take a rest in "Cala Pregonda", where we'll spend the day relaxing. At sunset we'll set sail for Fornells and, why not? Go to the village to drink a good caldereta.
• Monday
In the morning after a well-deserved break, we'll visit the beautiful "Es Pilar" creek, located inside of a fishing reservoir where snorkeling is wonderful, where the most daring one can go down to the beach and take a great mud bath. In the afternoon, after nap time, we'll set sail again and anchor to spend the night in the "Algaiarens Creek".
• Tuesday
e'll set sail to Ciutadella, a small and charming city, with plenty of stories to tell. We'll spend most of the day there and, of course, night. Not without previously discovering a very special corner in "Mort Creek".
• Wednesday
We'll leave north definitely and head south sailing until we discover "Escorxada Creek". We'll sleep in a very singular place "cala Ses Coves".
• Thursday
The last day in Menorca Island. We can't go without visiting the most famous beaches, "Macarella" and "Turqueta". By sundown we'll set sail for Barcelona contemplating de sunset through our porthole.
• Friday
On our way back to Barcelona, during our travel, we'll enjoy once again the immensity of the sea, the sunrise, the high-sea and more dolphins. We expect to arrive to Port Olimpic in Barcelona by afternoon to finish an unforgettable week that you will always remember.
2020 Season - to the Balearic Islands. See all the single trips on sailboats that we have published.
We sail from Valencia to Ibiza and Formentera every Saturday from July 4 to September 19, 2020.
We sail in Menorca embarking in Mahon every Saturday from July 4 to September 12, 2020.
We sail to Menorca embarking in Barcelona every Saturday from July 4 to September 12, 2020.
Click on this link if you are looking for a trip for singles to Ibiza and Formentera from Valencia.
Click on this link if you are looking for a trip for singles in Menorca by boarding Mahon.
Click on this link if you are looking for a trip for singles to Menorca embarking in Barcelona.
The planned route for this trip is not contractual. The itineraries and routes envisaged in this journey are indicative and are usually feasible at the time of the year in which they are scheduled. Adverse weather conditions and / or safety reasons of the crew or ship, and / or uncomfortable conditions of wind and wave navigation can vary this route, without thereby generating the right to claim. The employer is the only authority on board and his decisions on security issues are final. Fortunately, there are many alternative routes for this journey that are attractive enough.
We remind you, as in all sailboat sailing, that the weather conditions may alter the planned plan so that the trip can start after the indicated and end before or after and / or in another port, so you must evaluate the convenience of hiring travel assistance insurance to cover possible expenses in case of bad weather, for example. We also remind you of the convenience of not hiring plane, train or ferry tickets very close in time at the expected time of landing due to possible delays.
We also remind you that sailing holidays are a participatory activity in which crew members must take care of the tasks on board. In turns, we will cook, we will scrub the kitchen utensils, we will maintain the cleanliness and we will even make guards during the night navigation and we will help the patron in the maneuvers with the candles, the anchorage, etc.
In the following links you will be able to find answers to your questions regarding what a sailing boat trip is like, the expenses you will incur apart from the price of the trip, the luggage you will have to bring on board, our cancellation terms, etc.
What is a trip with singles on sailing boats?
Expenses you will have to take into consideration when you go on your singles sailing boat holiday.
How do I pack my suitcase?
Our cancellation policy for Sail for Singles!!
In general, you will want to check our sections on:
Important Information
FAQ - Frequently Asked Questions
You can book your sailing vacation week by clicking on the 'Book Now' button that takes you to the page with the dates and prices of each week. You can pay your reservation by credit or debit card (Visa, Master Card, Amex ...), Paypal, bank transfer, or deposit into our account at the bank.
Book your place as soon as possible and do not worry if, for work, family or whatever, you cannot come. Our very light travel cancellation conditions allow you to change the date of your trip, free of charge, up to 24 hours before embarking or canceling the trip, also without expenses, up to 7 days before or with some small expenses in the last week.