Travel and Sail with Singles during Weekends and Long Weekends.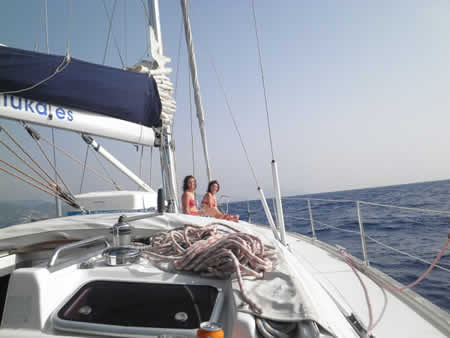 Come sail and meet singles during weekends and/or bank holidays on board of sailing boats and other boats going to Ibiza, Formentera, to sail along the coast of Valencia, Dénia, Alicante, Barcelona, Coruña or to go for a trip to the Columbretes islands, etc.
During summer months, there are no sailings at weekends. In the summer we only organise trips and voyages for singles to the Balearic Islands for a week or more.
Take a look at the page listing our week-long trips to Ibiza and Formentera or check the page with all our trips.
Half-way through September we start our weekend sailing boat trips again. Each year we go to Ibiza and Formentera during the Long Weekend in May and, in honour of the people from Madrid, we also go to the Pitiusa islands during the San Isidro and Corpus Long Weekends. Do not miss the San Juan Long Weekend in June, when we go from Barcelona to Minorca. You can also race regattas even if you do not have any experience. For example, the "Ruta de la Sal" Regatta is held during Easter and the "Copa del Canal de Dénia" to San Antonio in Ibiza is held during the "Virgen del Pilar" Long Weekend in October.
All our weekend and long weekend sailings are listed below, sorted by embarkation date.

Free seats

Last seats

No free seats

Trip canceled
Take a look at our useful information page with advice on our trips.