Tips for your single vacations on a sailboat - On the boat.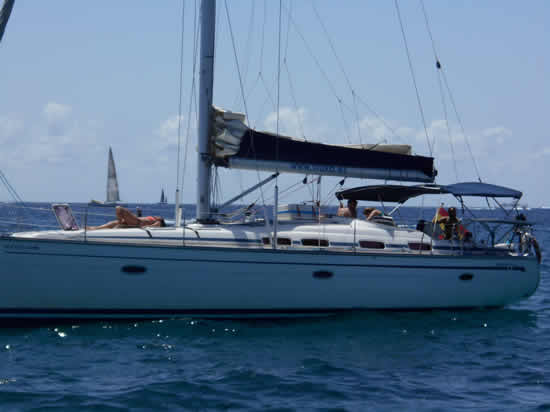 Vacations and trips on board are very pleasant, but we have to follow some rules.
Most of these tips are given thinking on summer sailboat vacations, sailing on a sailboat on the Balearic Islands with a singles crew, although they can be extensive to other mediterranean cruises.
The first thing you have to keep in mind is that meteorology will be the one to determine the navigation course to follow.
Schedules and plans prepared beforehand, often have to be modified due to weather conditions. A small change in the waves can make your stay on the boat very uncomfortable, and certain wind and/or sea conditions can make the trip unpleasant and even dangerous.
The Skipper will be the one to advise the best navigation plan possible, according to meteorology, boat conditions, sea and wishes of the crew.
The Skipper is the highest authority on board and is responsible of the safety of the passengers and ship, the decisions he makes in matters of safety or government of the ship cannot be questioned by the crew, the Skipper also has enough authority to make passengers who because of their behavior put their or others safety at risk leave the boat.
It has to be kept in mind that sailboats move slowly, so we have to consider this when planning our route. Besides, on the sea you know when you leave but not when you'll arrive at your destination.
A sailboat's speed can go from 6 to 7 knots, that is about 10 to 12 km/hr. A person jogging will go faster than a sailboat. For example, keeping in mind that the wind and sea conditions can really affect them, from Valencia to Ibiza it can take from 11 to 14 navigation hours and from Dénia to Ibiza or Formentera it will take from 7 to 9 hours. This slow sailing usually becomes a pleasure.
These Sailboat singles vacation are an activity in which we all must help with common tasks (buying groceries, cooking, washing the dishes, cleaning, etc….)
Batteries and water are very limited resources on board a ship, everything we learn about saving water and the rational use of energy, on a sailboat must be multiplied by 100. Leaving lights on in empty rooms, leaving water running in the sink, for example when washing our teeth or washing the dishes will make us depend on port services, because if we empty the reserves, we will have to go to port to refuel, which makes us change our route and lose a lot of time. We have to keep in mind that off-shore we don't have a lot of water, only the one in the tanks, to shower, wash our hair, our clothes, etc.
Electricity: The ship works at 12 volts, like cars and 220 volts when we are at the port.
We cannot use hair dryers unless we are at port. Mobile phone can be charged if we have a cigarette lighter plug battery charger, or when we are at port.
On some sailboats, but not all, we have 220 volts to charge cell phones or cameras.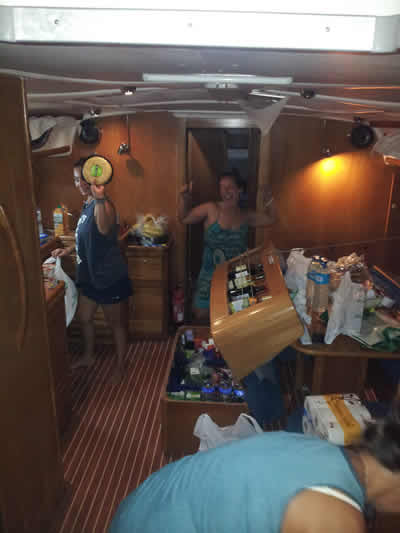 Close to the coast we usually have cell phone signal, but not during the trip from the peninsula to the islands or in some parts or Ibiza or Formentera. If for any reason you need to have phone signal at some point, let the Skipper know.
Toilets on sailboats are very delicate and very easily clogged. There is a saying that says "Don't throw in anything that you haven't eaten already". Never throw in toilet paper or it will get clogged. In the sailboat's bathrooms there are trash cans for that reason. The WC must not be used while at port, we can go to the port for that. Anchored in a creek or inlet, to be able to use them, we have to close the sewage that we will open again when we're far from the coast. This will make sure we don't dirty the waters where we and people from other boats swim.
On a boat nothing works with violence, you have to be careful with the bathroom water pumps, the doors, etc y take care of the boat af if it were yours. If something on the boat doesn't work as you expected, don't try to force it, ask the skipper.
The boat moves, and sometimes a lot, you have to be careful with things that can fall. Knives, cans, bottles… are things that can harm us, and things that we can lose… sunglasses, books, lighters, cutlery…. are some of the things that we can find at the bottom of the sea when we anchor.
On land, a table is a stable place to leave your things, but sailing, they will fall as soon as there's a strong wave or we anchor. Sailing, everything has to be well stowed and closets and chests locked.
Be very careful with cell phones and cameras. They like to bathe, but seawater tends to irreparably damage them. We have to be even more careful if we leave the boat with them on the inflatable boat. Waterproof bags that are sold to protect them, tend to be effective, cheap and practical.