What luggage do I take on my sailboat vacation?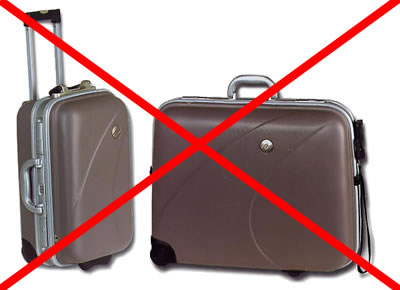 Recommendations and advice on what to take on a singles sailing vacation.
The first rule is to never overpack, whatever little you take, you will leave more than half unused. Do you want to know how to pack for your vacation? Keep reading.
What to bring: The basics, light luggage!
Plan your singles sailing holidays, sail and live in the sea aboard on a boat with a group of single friends, it is a fantastic experience, but with the appropriate luggage.
Above all, DON'T use rigid suitcases, it is very difficult to find space to store them (stow them) and will always be getting in the middle, sports bags that can be folded are perfect to take on a sailboat.
Watch this video with tips for packing luggage. It's short and will give you some ideas. It lasts 2 minutes and 20 seconds and will help you in preparing your suitcase (sorry, in spanish).
-- VLuggage to carry on your sailing holidays --
In the sea, even during summer, at night or at sunset it can get very humid and even drop the temperature. A jacket, a sweater or a sweatshirt and a very light raincoat are useful, since sometimes you can encounter with pouring rain as well.
The ideal footwear on a sailing boat are nautical shoes, and if not, comfortable sneakers or t-shirts with white or clear sole and with a gripping soles, to avoid slips. Navigating is better to wear shoes to avoid possible blows and injuries to the feet, then, anchored, you can go around barefoot. It is advisable to wear bathing shoes (flip-flops) when descending to land, the beach or the rocks with the pneumatics. Avoid black or hard soles that soil the fiber and tarnish or scratch the boat. Heels are to be absolutely avoided.
For the everyday use, the swimsuit will be the main attire. In the afternoon and at night we have to take into account that sometimes we will go to have dinner on the shore or have some drinks at some fashionable bar or pub, other days we will go down to the beach at night and others, anchor in a small boat and we will spend the night under the moonlight.
Although there are laundries in the ports, they are not practical on trips of a week or two, so we recommend you to bring enough clothes to wear every day (but without exceeding).
Do not forget hats and sunglasses, sunscreens with high protection, fins and diving glasses if you like to swim and snorkel among the rocks watching fish. Do not forget CDs with your favorite music.
While we board on our cruise there are many places with mobile coverage. To charge their batteries we have to carry a cigarette lighter car type charger. Some, but not all ships have 220v during navigation. Remember to also carry the camera charger.
If you need to take any medication, do not forget! We do not always have pharmacies at hand; do not forget also some anti-dizziness like Brampramine. They produce sleepiness, so it is advisable to take it also with caffeine. Boats carry their regulatory kit for the most common emergencies. Do not forget earplugs , either.
Also, we must give you some general recommendations for any trip:
Do not forget your ID or passport and check its expiration date.
Social Security card and your private health insurance if you have.
Bus, train or plane tickets to the port of embarkation and return. Check that the information on them is correct and confirm the reservation.
Credit cards and cash. Some bars where we go are not habilitates with credit card machines and there are no ATMs at hand.
On some trips we rent motorbikes to visit Formentera. Do not forget your driving license.
Make photocopies of your documentation (ID, Passport, Social Security card, credit cards, reservations and / or flight tickets, train or bus, etc.) and keep them safe in your suitcase. If you lose the documentation, it will be very useful. If you also scan them and keep them online (your email, dropbox, etc), it will also be very easy to retrieve them at any time in case of need
>
>