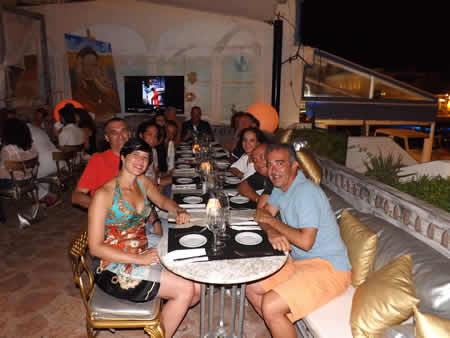 How is a week of singles sailing holidays in the Balearic Islands?
If you are thinking of going on a sailing vacation singles trip, and don't have or have little sailing experience and want to know how do singles trips work, this information is written and thought of to answer those questions.
To make it easier, we will talk here about a typical week-long holiday to the Balearic Islands, embarking in some port of the Peninsula and making the crossing to the islands. It is perfectly adaptable to other trips and longer journeys or to other destinations.
On this website, we offer several trips of this type embarking in Valencia, sailing towards Ibiza, Formentera and / or Cabrera passing several days in a boat and returning in a week. Information, dates and prices of these trips you can find in the following link: Sailing trips for singles.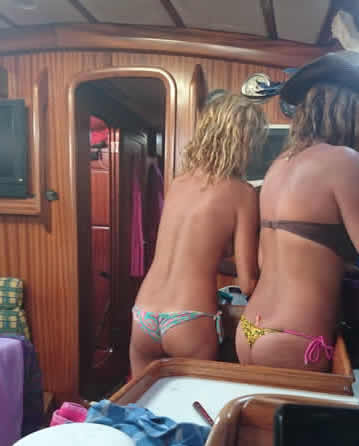 They are trips designed for people who have not met previously, single or not, who want to spend a week of different vacations, happy and fun, sailing the islands, anchoring in their coves and enjoying the sun, the sea, the coves, and the company.
Sometimes, quite often, couples are formed, but this, nor is it a goal of the trip, nor should it be yours.
What is almost certain is that you will make excellent friends and, as happens very often, you will stay for other trips or activities.
You can see these 2 travel sailboat videos from previous years to get an idea. They are short and entertaining.
¿How is a sailing trip through Ibiza and Formentera?
Video of a sailing holiday in the Balearic Islands
The first thing to understand is that it is a participatory activity. That is, crew members should help in turn on board duties such as cooking, washing dishes, keeping order and cleaning on the boat or keeping guards during the night sailing. Using a simile, your holidays are not in a hotel, they are in an apartment.
We will sail on sailboats between 12 and 16 meters in length. On each boat between 6 and 10 people plus the skipper stay.
We will live on board for a week , the whole group of about 8 people, most of whom are not previously known. The boat will be our apartment and our means of transport, but make no mistake, this is not a combined trip according to the legislation. Facilitating coexistence and tolerance are key to the success of the trip. Most weeks we sail on several boats together and we will do activities along with the other crews.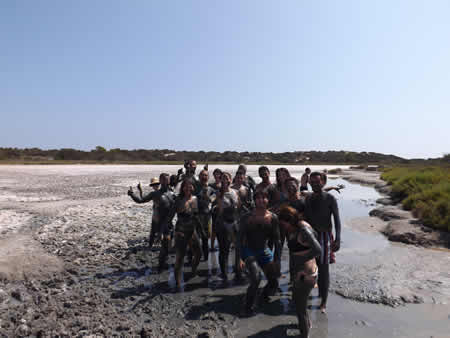 We will stay in the port, in a coffee shop near the embarkation docks at 16:30. After a short talk, we will board the boat and get cozy and accomodated. We try to distribute in a balanced way between men and women in each boat and we will also consider the ages as much as possible. You should share a cabin with a partner who will usually be of the same gender.
Now, after making the presentations, the captains will give you a talk about safety rules, onboard behavior, boat knowledge, etc. and prepare the grocery shopping list for the trip under the skipper's instructions.
Once the shopping list is made, we go to a supermarket to get it. On the way back, after stowing and putting the boat to sea, we prepare to set sail.
We will have dinner in the port before our departure about midnight.
In Valencia, with the predominant meteorology in summer, we must wait until nighttime to have good conditions to take us to the sea and begin our journey.
We should not forget some anti-dizziness pills or something similar that we rely on, like chewing gum, bracelets, etc. Many people need to take these precautions the first night or the first day and very few will need to follow one more day.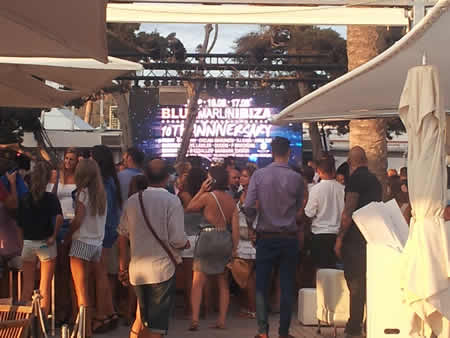 We will sail all night, taking surveillance watch in turns and in the morning we will arrive in Ibiza at the first cove where once anchored, we bathe, swim, dive, do pirogue, etc. and we start our singles vacations in Ibiza.
The daily routine is simple. Imagine that you get out of bed and if you fancy, you can directly take a dip. Breakfast, some activities like swimming, snorkeling, etc., and we lift anchors towards our next destination to eat. These crossings will normally be short, one or two hours. Afterwards, bath, food, siesta (nap), and perhaps a change of cove to spend the night.
Normally there are scheduled activities of the crews of all the boats together, like going to see the clay lagoon of Espalmador, excursions or travel in motorcycle the island of Formentera, approaching in the pneumatics to receive the energy of Es Vedrá, land down to Take a few mojitos or dance to the hippie tambourine of Cala Benirrás, night out to the city of Ibiza (Dalt Vila), dinner at the Villa Mercedes restaurant in Sant Antoni de Portmany or just join a group on one of the boats to have a few drinks And listen to music beneath a star-covered sky.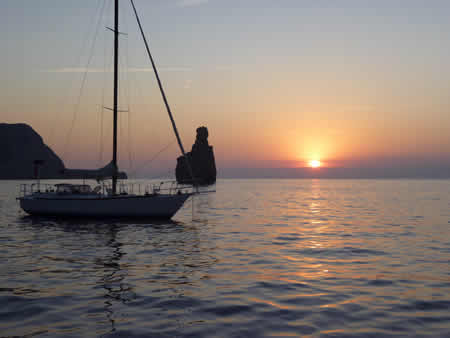 Each of the trips has a published itinerary. These itineraries are planned according to the predominant meteorology at the time of the year in which they are scheduled, but we will not always be able to carry them out due to wind and wave conditions. Fortunately, Ibiza and Formentera have numerous coves and offer enough shelters to be able to choose very attractive alternative routes.
You will see that the skippers are constantly pending of the climate forecasts and adapting the itineraries, choosing the routes and the coves to adapt to those predictions.
On arrival in Valencia, as a farewell, we can go to dinner all together and then have a few drinks in the leisure area of ​​the Royal Navy. If we have provisions on the boats, we can have dinner on board if we want.
On Saturday morning, at 8 am, with or without a hangover, we will leave the boats empty, as the cleaning and maintenance teams must leave the sailboats ready and shiny for the next voyage, whose crew will arrive in a few hours.