Trip for Singles to the Calas de Ibiza and Formentera on Sailboats - Summer 2019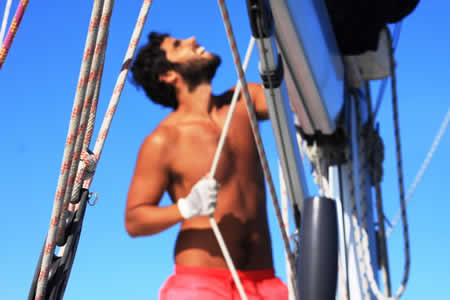 Travel reference: Calas de Ibiza and Formentera from Valencia
Sail with singles through the Ibiza and Formentera coves on sailboats during your summer vacation. Friendly, fun and rewarding trips, vacations, cruises and adventures at sea for people who want to travel alone.
Boarding: Saturdays at 16:30 hours.
Landing: Saturdays at 08:00 hours.
Place for boarding and landing: Marina de Valencia.
Duration: 8 days / 7 nights.
Double shared cabin.
Itinerary: Route nº 17 - Our planned route includes navigating the coves of Ibiza and Formentera, anchoring in them. We do not dock at ports. We will see the sunset at Cala Compte, a dinner at the Villa Mercedes restaurant in Sant Antony de Portmany, visit to the city of Ibiza (Dalt Vila), visit to the mud bath lagoon of the island of Espalmador, visit in motorbike, car or bicycle to the island of Formentera and have a drink at a trendy beach bar in Ibiza, etc. In the following link you have the fully detailed itinerary R17 - Valencia-Ibiza-Espalmador-Formentera-Ibiza-Valencia.
Our one-week Singles travel offer to Ibiza and Formentera by sailboat.


Free Seats.

Last seats

No seats

Tour Canceled
Travel and holidays for singles on sailing boats to Ibiza, Formentera and the Ses Salines Natural Park (Ibiza, Espalmador, Formentera)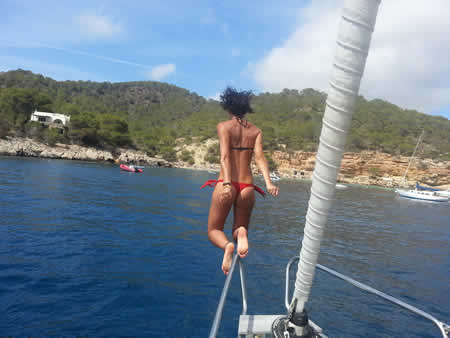 Check in this link the planned route (R17) for your holiday week with singles sailing through Ibiza, Formentera and Espalmador.
We sail every Saturday from June to September from Valencia. If you would like to select another date or another destination, click on the following link where we have listings sorted by dates, all thes offers and trips that we organize on sailboats.
In the following links you can solve your doubts and consult what is a singles trip on sailboats, the expenses that, besides the price of the trip, you must consider, luggage that you must carry on board, cancellation conditions of our trips, etc.
What is a trip with singles on sailing boats?
Expenses you will have to take into consideration when you go on your singles sailing boat holiday.
How do I pack my suitcase?
Our cancellation policy for Sail for Singles!!
In general, you will want to check our sections on:
Important Information
FAQ - Frequently Asked Questions
You can book your sailing vacation week by clicking on the 'Book Now' button or link. Book your place as soon as possible and do not worry if, due to work, family or whatever, you cannot come. Our very light travel cancellation conditions allow you to change the date of your trip, free of charge, up to 24 hours before embarking or canceling the trip, also without expenses, up to 7 days before or with a small fee in the last week. You can pay your reservation by credit or debit card (Visa, Master Card, Amex...), Paypal, bank transfer, or deposit into our bank account.
The planned itineraries are for orientation and are usually feasible at the time of the year in which they are scheduled. Adverse weather conditions and/or safety reasons for the crew or the boat, and/or uncomfortable conditions of navigation by wind and waves may cause this route to change, without generating a right to claim. Fortunately, there are many alternative routes for Ibiza and Formentera that are attractive enough.